Have a Remote Support Session with Us
Remote Support using "PickleIT Support"
What is "PickleIT Support"
"PickleIT Support" is a Remote Assistance Service that allows a PickleIT support agent to troubleshoot technical issues or tutor you on your computer over the Internet while talking with you on the phone. PickleIT Support works on Windows, Mac and Ubuntu/Debian Linux.
What can PickleIT Support be used for?
While not all computer problems can be solved remotely, a large majority of problems can be, such as:
Virus/Spyware Removal and Prevention.
OS Troubleshooting and Repair.
Assisted Data Backup and Recovery.
Computer Tutoring (Microsoft Office, Digital Video Editing, Internet, etc.)
Computer Performance Optimization.
Software Installation, Uninstallation and Repair.
Advanced Diagnostics.
Printer, Scanner, Camera, etc., installation and troubleshooting.
System Cleaning.
Network Security Analysis and Optimization.
Much more…

Download PickleIT Support
Choose Your Operating System
Click here to download the source code
With PickleIT Support, you are guaranteed the most rapid response time when you are in need of technical support. Whether you are an average home user, or a traveling business user, I can be there virtually to help you with your computer in an instant no matter where you are.
How do I use PickleIT Support?
Once you've installed PickleIT Support and start it up you'll be presented with a window that looks like this: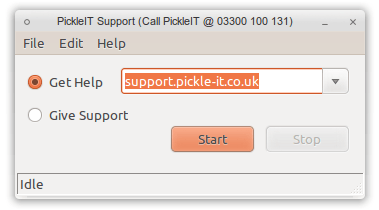 PickleIT's phone number is at the top of the window. Simply give him a phone call and when he is ready, you'll click the "Start" button to begin sharing your desktop with PickleIT Support. That's it!
Is PickleIT Support safe and secure?
Yes, very much! Remote desktop sessions can only be started by you. You have complete control of your PC throughout the entire session and can disconnect at any time by closing PickleIT Support.
How does PickleIT Support work?
In plain English, PickleIT tells his computer to listen for an incoming "phone call" or "hand shake" from your computer which occurs when you press the Start button within PickleIT Support. This is a one-way connection that can only be established by the customer and not by PickleIT or anyone else. The connection ends when PickleIT Support is closed. It's as simple as that.
PickleIT Support is also 100% open-source software. So if you're curious about the inner workings of the program or if you'd like to create your own custom remote assistance program, you can! You can download the source-code from here.
What does PickleIT charge for a remote assistance session?
All remote sessions are £20 per hour. You will be billed after a successful session has been completed.
For any tech issues that require an on-site visit,
there's "PickleIT on-site support."